Michael and the Diamond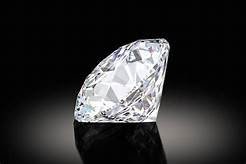 At first you might think Michael Dove took our studio program for a joke. The way he found everything amusing. Although he demurred each time we asked if he was up for trying the techniques, he kept showing up, just hanging out with the artists, watching the paintings being created.
A week and another week, and another week and Michael smiled and shook his head in a gentle no thanks to our invitation to come to the board to paint.
One thing we at A.R.T. know is what we don't know. We don't lock in anyone based on their initial impression on us. We don't know what's going on inside them. But we do know almost everyone who has made the move to paint with us has not regretted it. It can be like a swimming pool you are hesitant to dive into. But when you dive in? The feeling is so good.
This means we did not report to the administration Michael was not painting. If we did we would lose him, and we did not want to lose him. We were going to wait him out, give him time, and when he was ready we would be ready.
And the day did come when we once again asked, "Hey Michael, ready to give it a try?"
And to our surprise and pleasure up to the workstation he rolled.
He ordered up a very close to square canvas, but in orienting it before pinning it to the board Michael signaled no to horizontal and no to vertical. The Tracker turned the canvas and offered the standard options again.
No thank you to vertical. No thank you to horizontal.
The tracker said, "Some other way?"
Michael signals: yes.
"I'm going to revolve your canvas. Let me know when it's the way you want it."
The canvas revolved until it was a diamond which was when Michael signaled.
No one had ever done this before.
Michael ordered up liquid black paint in a squirt tipped bottle, designated a point on the top edge of one of the diamond's side and indicated the paint was to be allowed to run downward with the pull of gravity.
When the black line had run the length of the raw canvas Michael let the Tracker know he was finished.
I knew many might not know what to make of such a minimalist painting, but I also knew it was as pure and potent as anything I had seen anyone make in art school. That many advanced painters would love the way the canvas was tipped, and how at the same time the running rivulet of black paint definitively declared the orientation and pull of the earth.
Nice first painting.